"Winter Camp" in the Desert
We wondered what it would be like to experience a tent camping adventure in winter time–well, at least winter time in the Arizona desert. So right after Christmas we headed to McDowell Mountain Park just east of Scottsdale. The first two days we were there the weather was wonderful. Warm and sunny, with highs near 70 degrees. We sat outside the tent in our shorts and caught up on our reading.
It cools off considerably at night, though, and the mornings were chilly. Early one morning, Rose the Irish Setter rocked the "hoodie" look.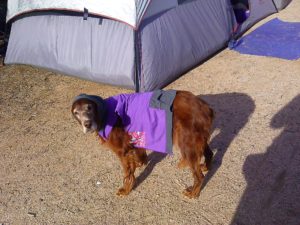 Our campsite had a wonderful view of the desert–and it was like we were the only ones there.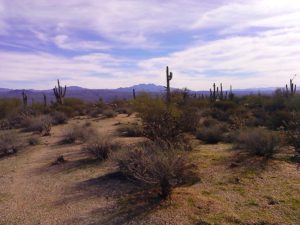 The mountains in the distance are called "Four Peaks"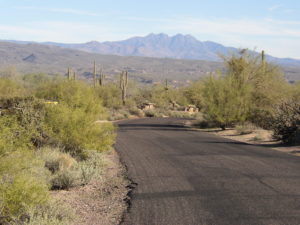 But then a winter storm moved in and we got to experience what it's like to camp in cold rain, even some sleet. The storm swept in quickly across the mountains. The temperature dropped quickly. Kate our Springer Spaniel, for some reason, loves the rain and watched the storm roll in.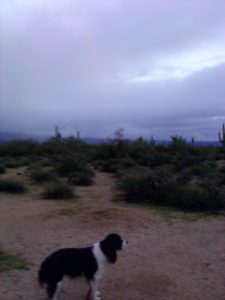 To make the adjustment from autumn camping to winter, we bought wonderful sleeping bags, Teton Sports brand, from Sportsmen's Warehouse. We had no trouble staying warm and they were very comfortable.
We also bought a "Little Buddy" indoor propane heater to help take the chill off. This product worked really well, too. It runs off the standard propane canisters that are sold for use with camp stoves. Our tent, which is 14′ by 10′, warmed up quickly when we turned on the "Little Buddy". Since it rained steadily for 24 hours, we were really glad we had the heater with us.
The other purchase we made, a new air mattress, did not work out as well. It deflated the first night we used it. In the middle of the night, we found ourselves lying on the hard ground and had to get up to re-inflate the bed. But When camping, you learn to cope with the unexpected. Some campers might become grumpy or even panic if this happened. Not Rose. As you can see, her sleep was undisturbed.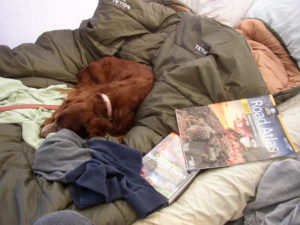 Just a few feet from our tent was a dry stream bed, called a "wash" in the desert.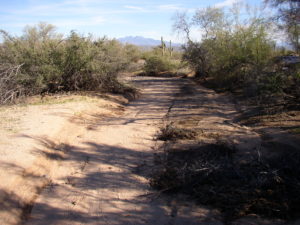 A few hours after the storm hit, the rain coming down the mountains caused the wash to quickly fill up. The park service should have advertised "Creekside accommodations at no extra charge." Sort of like those seaside resorts that advertise "partial ocean view room" that they charge 50% more for. And you need a seaman's spyglass to actually see the ocean…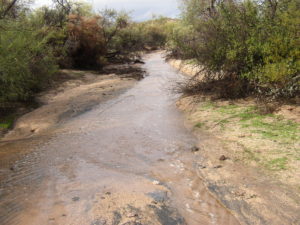 Even on the stormy days, the sunset was gorgeous.