Parker Canyon Lake Campground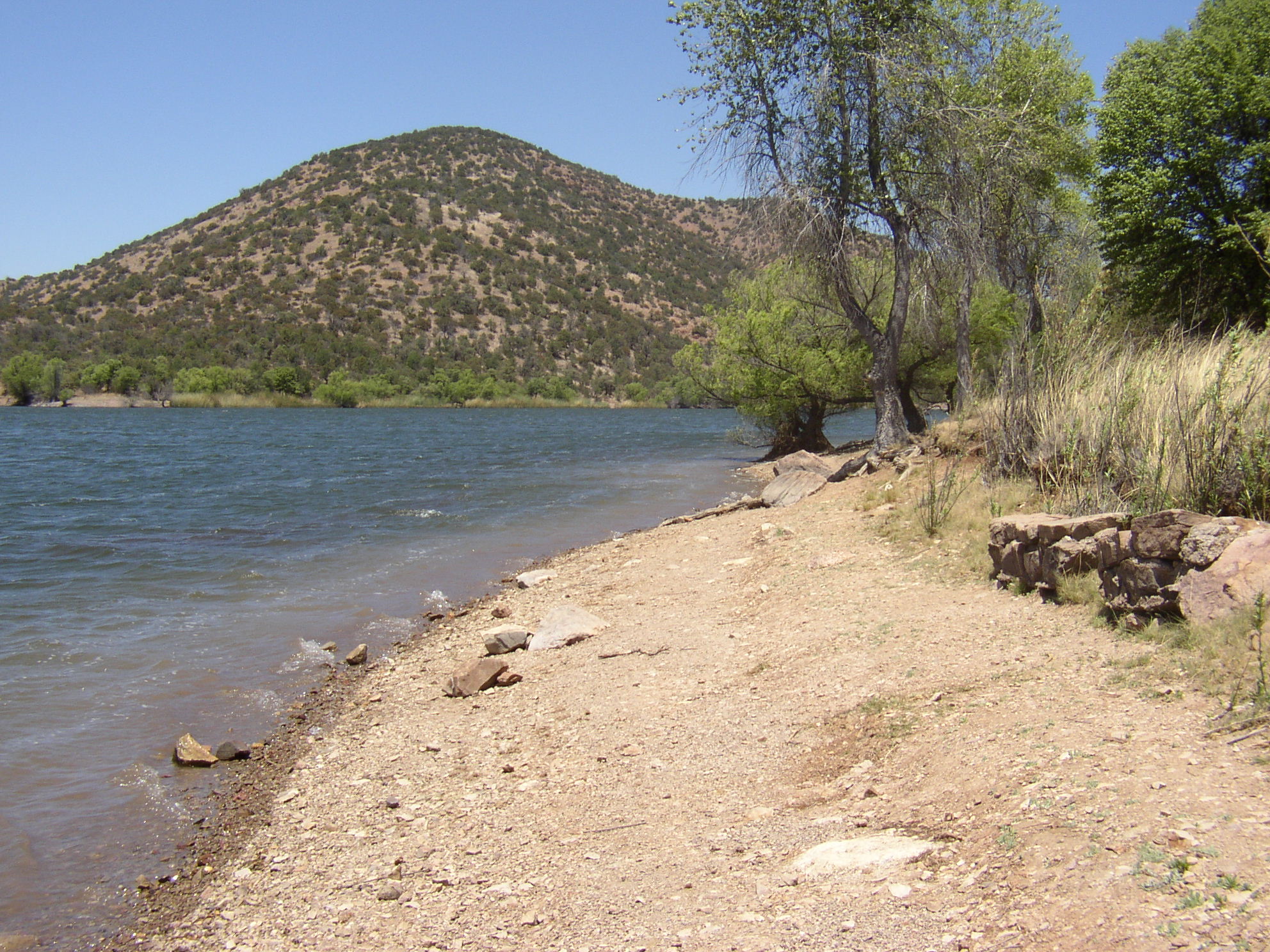 Coming from Phoenix you think you're never going to get there. Parker Canyon Lake is only two miles from the Mexican border. It's East and South of Tucson, about two hours. After driving through Sonoita you still have 30 miles to go. Most of that is through rolling grass covered — now brown in May — hills. About eight miles from the lake, the road narrows and starts to climb. About 2 miles from the lake, the road narrows again to the point two cars have to pay careful attention as they pass each other. Is the drive worth it?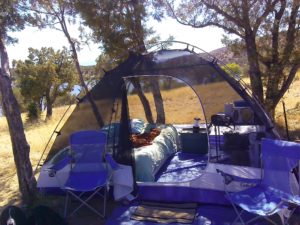 Yes, yes, yes. First the downside. Vault toilets. If you're wondering what a vault toilet is, it's basically an outhouse with chemicals added.
There is no cell phone or Internet coverage here, but some would consider that a positive.
The campground is divided into a "tents only" loop where we stayed and a loop for RVs where tents can stay too. The tents only loop as a stunning view of the lake. The RV loop doesn't have those views.
Each campsite has a picnic table and fire pit/grill. You are allowed to collect wood from the grounds to burn and we did. We bring a saw with us for that very purpose.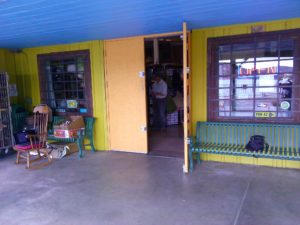 The camp host, Jack, is very friendly. We were one of three campers during the weekdays and he checked on each of us every day.

The lake has a marina where you can launch your own boat once you get it up that narrow windy mountain road or rent one, including paddle boats. A tiny, but well-stocked, store is run by Scott. Fishing is big out here so the store includes all sorts of bait and supplies. If you've forgotten your air mattress, lantern or store, Scott has them in stock. He even carries small tents.

The lake is easily approached from the campsites. The shoreline is mostly sand so it's possible to go wading or swimming without breaking an ankle on submerged rocks. We brought our lunch and spent a lazy afternoon in the shade of the trees. Well, Brian, Rose — our Irish setter — and I did while Kate — our English springer spaniel — chased fish in the shallows of the lake.

Dee

Note to Self: Next time face the tent downhill rather than uphill