Through San Francisco and On to Clear Lake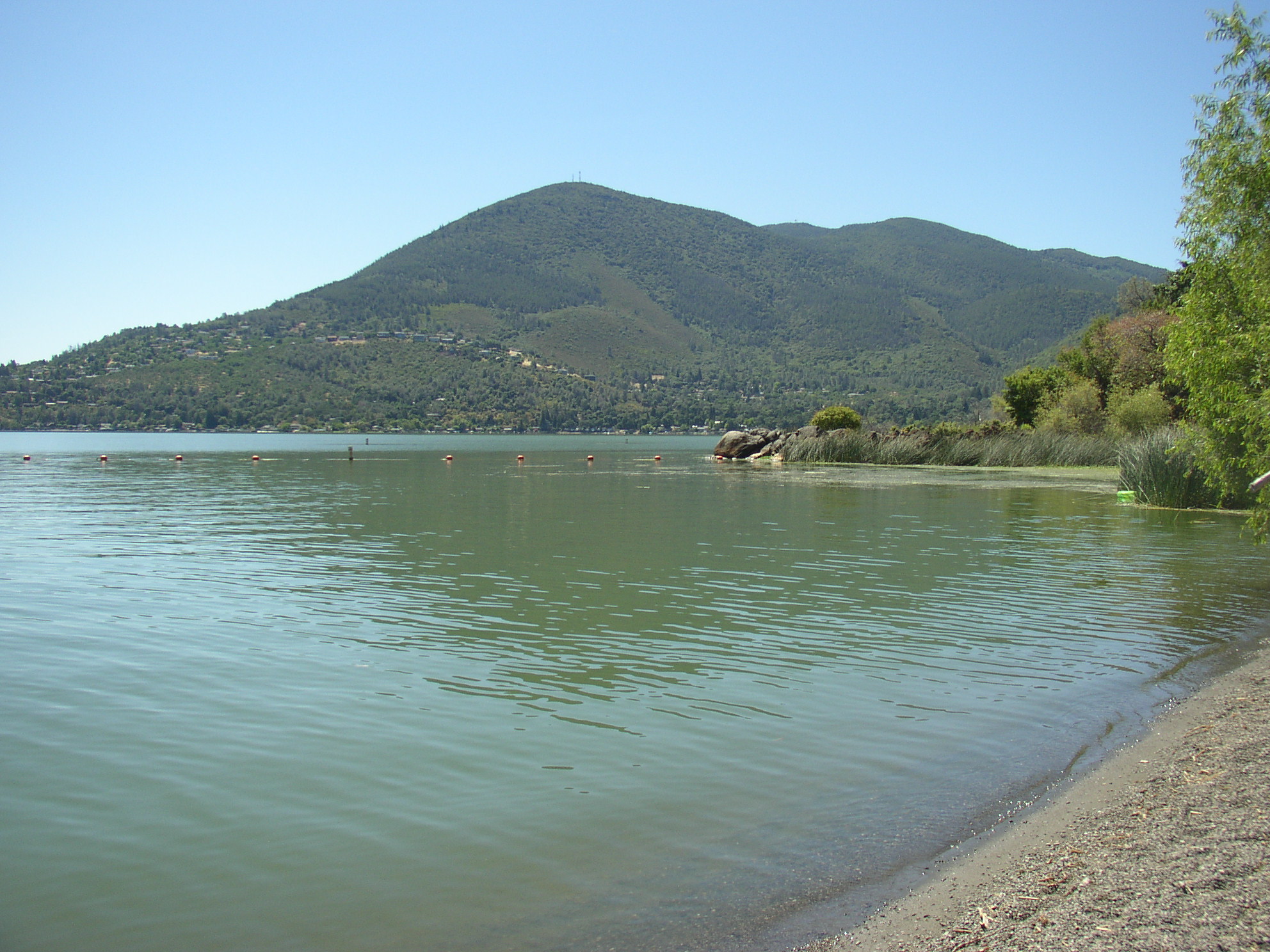 Our route took us right through the heart of San Francisco on a beautiful, clear summer day. We must have hit the traffic just right because it was a breeze going through the city, and crossing the Golden Gate Bridge was not nearly as scary a proposition as I thought it might be. Not a "big city guy", I do not look forward to driving through congested metropolitan areas.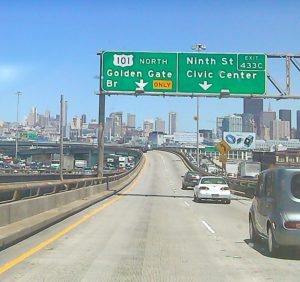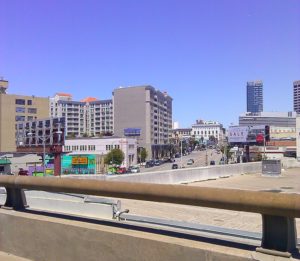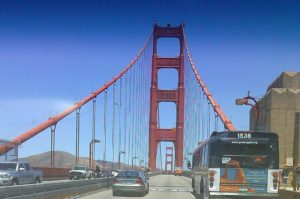 The sidewalks and intersections on the streets of San Francisco had all of the colorful city characters we expected. What was unexpected was a fellow standing on one corner who offered to help us with directions when we looked a bit lost at an intersection.
There's a song from the 1936 film "San Francisco" that goes…
"San Francisco, open your golden gate
You'll let no stranger wait…"
In this case it was more like
"San Francisco, open your golden gate,
Make room for Rose and Kate…"
Turns out there was a fairly benign route off Highway 101 to our destination Clear Lake, but our intrepid map program on the Internet had us going up the scariest mountain road YET on our journey. It seemed like we'd never get there. I was hoping Google Maps might be an improvement over MapQuest, but the two are just about equally ineffective. We need a map algorithm that has a filter like "Don't want to be frightened half to death while driving".
We were very happy to arrive at the campground, in this case a state park rather than a National Forest. When we got there, very few people were in the area of our campsite.
The funny thing was when I booked it, the description said "This campground winds along beautiful Cole Creek." Always nice to listen to the sound of running water. Except this was not a creek, it was a green bog that didn't flow much at all.
We set up camp and found there were very nice bathrooms and showers. The state of California, it turns out, is not the most dog-friendly of governments. Our dogs were not allowed on the beach near the lake (even on a leash). What made even less sense is that they weren't allowed on the nature trails at the lake. Rose and Kate love to hike in Scottsdale, AZ where we live and there are numerous trails there, all dog friendly.
Since going to the beach or hiking were out of the question, we just set up camp and enjoyed the scenery. By Friday, the campground filled up and there was an odd ethnic mosaic. Hispanics, Koreans and Indians (from India, not Native Americans) each had their own little groups, away from each other. It was a little bizarre to walk through it on the way to the bathrooms at night. They were all cooking their own ethnic foods. It was like attending a cultural fair.
In general, camping is fun Sunday-Thursday at popular parks, not so much Friday and Saturday nights when the crowds arrive. This particular group had a lot of little kids who enjoyed screaming, while their parents are oblivious.
There was an odd rule that there shall be not talking outside your tent after 10PM. What kind of dim-witted bureaucrat made that rule up? I believe we have a Constitutional right to talk with one another. The aforementioned bog caused us problems on Saturday night when mosquitoes swarmed out of it, apparently sensing all the nice fresh tourist blood in the campground. I was bitten about 40 times before I realized they were there. Apparently the pests could sense the high chardonnay content in my blood. I won't forget the bug repellent again, I'll tell you that. With that number of bites, my feet and legs didn't heal for about a week.
This camp was laid out with the sites all lined up next to each other, so you could look down the line and see all the other campers on your side of the street. An enormous motor home pulled up next to our site, and we thought, oh no, we'll be listening to a noisy generator all day and night. But to our surprise the owner came over and assured us that he was only going to run the generator for brief periods in the morning and afternoon. We really appreciate when other campers are so considerate.
On Saturday night, the only spot left was directly to the right of us. I was kind of dreading that we'd get a really loud, large family showing up. But happily, something very different happened. About 4PM, a brand new black SUV pulled up with two paddle boards strapped to the roof. Out step two gorgeous "surfer girls" with blonde hair. They set up their tent and said hello to us in a friendly fashion. They were bubbling over with enthusiastic conversation. I could tell they really wanted to get down to the lake and have fun. They were wearing sweat pants and T-shirts. They stripped out of those down to small bikinis and then enthusiastically rubbed sunblock over themselves. They had such beautiful, athletic bodies–they had legs like Olympic swimmers–that when a group of guys drove by on the road into the camp, they slammed on their brakes to watch the show.
When they got back from the lake that night, they made a point of saying hello to our dogs Rose and Kate as we went by on our evening walk. They were obvious dog lovers. Ah, if all the camping neighbors could be like those two.
To all guys reading this blog, I apologize for not having pictures of the beautiful surfer girls. I'll be more alert next time and have the camera ready.