Fabulous Fun Food – So Why Aren't Writing About Food While Camping?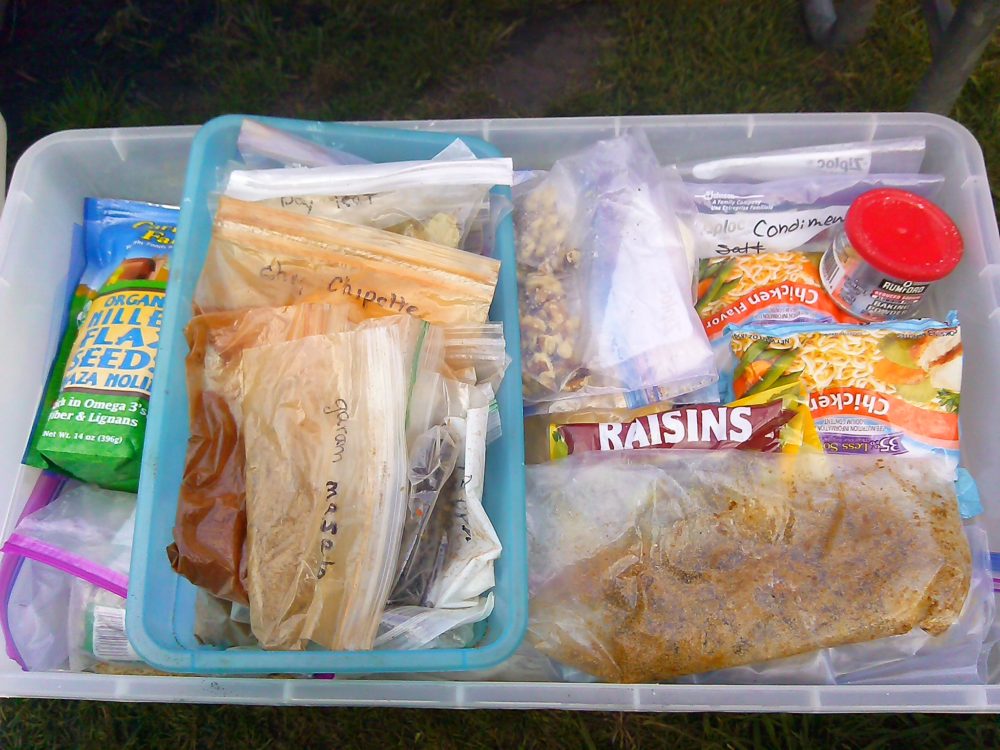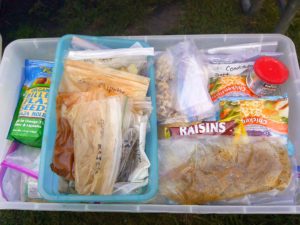 Just didn't think of it until now. You probably know that Brian and I love to eat and cook. I also have a food blog, but I think the experience of cooking on the road belongs to Adventures of Brian and Dee, this blog.
The first few times we went camping we planned every meal: breakfast, lunch, and dinner. Not any more. Breakfast is a peanut butter and jelly sandwich, instant oatmeal, toasted bagels with cream cheese, or scrambled eggs, bacon or sausage, and hash browns.
Lunch is soup and crackers, cheese crisps or sandwiches,
Dinner is the fun meal to create, cook, and consume.
I stocked a plastic shoe box with the spices and seasonings we usually use such as cumin, onion and garlic powder, thyme, oregano, fennel seeds, chili flakes, salt, pepper and so forth. Spices, when out of their bulky containers, don't take up much space so we bring along about 20 different kinds.
Our pantry box includes zip lock bags of dry milk, instant potatoes, flavored instant potatoes, flour, sugar, brown sugar, bouillon cubes, yeast, baking soda, baking powder, corn meal, olive oil, vinegar, Worcestershire, soy and hot sauce, mustards and olives, as well as nuts, raisins, pasta, brown and white rice.
I originally included dried beans but they have to soak overnight and then cook for two to three hours which uses up way too much propane.
On to the canned box. No salt-added veggies, fruits, tomato sauce, tuna, chicken, anchovies and Spam, yes Spam.
Fresh vegetables, butter, lard, eggs, dairy and meats go in the cooler, each in its own zip locked bag.
There's a shoe box of cooking utensils and big plastic box of pots, pans, bowels, plates, cups, dishwashing liquid, and sanitizer.
I probably haven't named everything but you get the picture.
A couple of years ago at a "prepper" show we bought a box of those prepared meals that last 25 years. They aren't bad and are peace of mind for an emergency.
There you have it Our Kitchen On The Road.
Dee
Note to Self: Should I mention that I filch those packets of condiments like mustard ketchup and mayonnaise from fast food places?