A Week of Wild Tent Camping Weather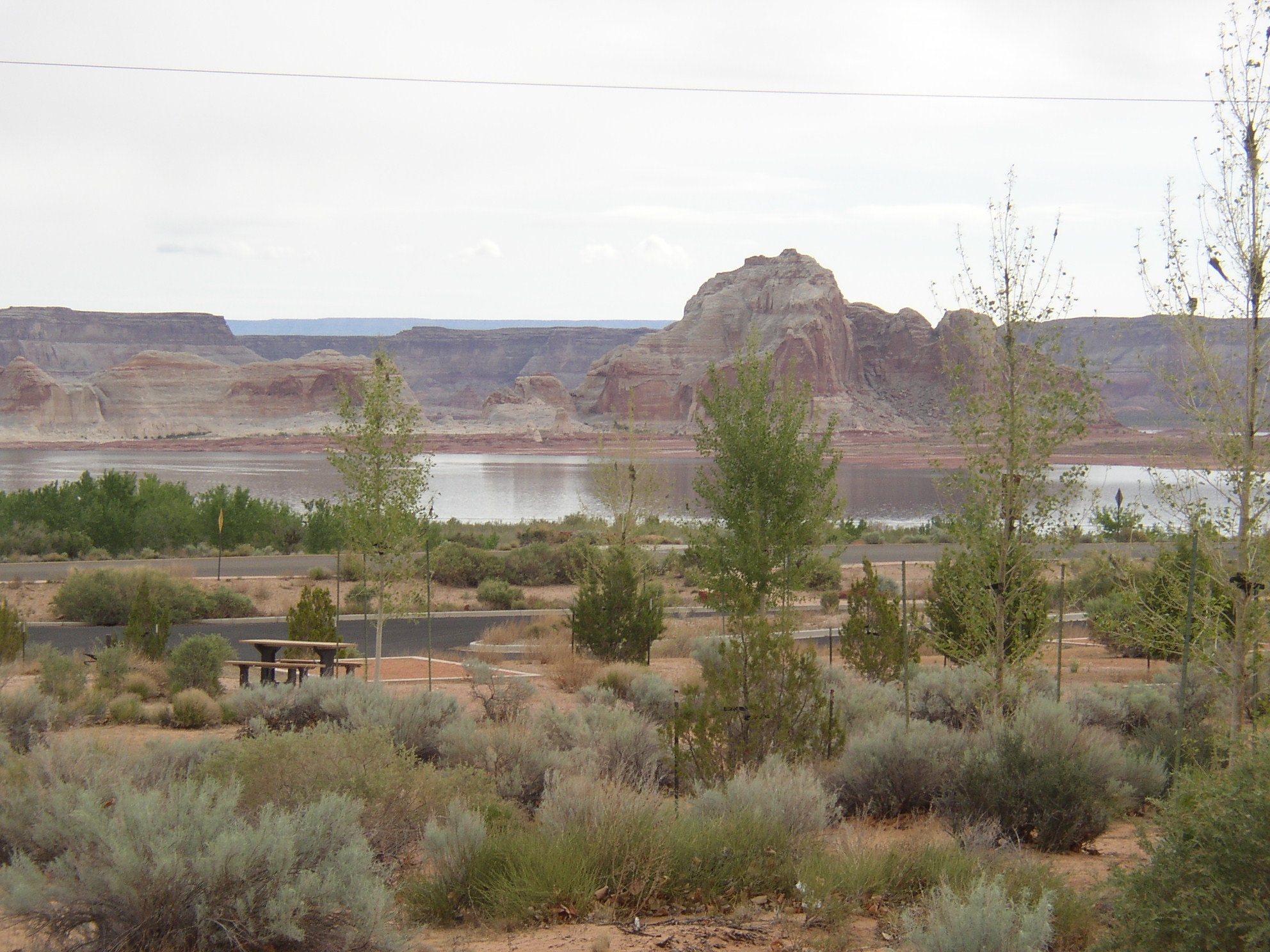 Our Destination: Beautiful Oak Creek Canyon for three days then up to Lake Powell on the Arizona/Utah border for three more days of fun camping. Or so we thought…
Five minutes after leaving the house, we were re-routed due to an accident that closed the main road–delayed us 45 minutes. Then a long delay on the Interstate north due to road construction. By the time we got to Oak Creek, the sun was starting to set. The first campground was full…what would we do if we can't find a spot? But the second campground, Cave Springs had lots of space. What a relief!
Right after we set up camp, the weather turned breezy, then cold. The campground, we read, had something called "vault toilets". These turned out to be old-fashioned outhouses with no flushing capabilities. The "vault" is a hole in the ground that is seeded with chemicals to control odor and disease until it can be pumped out. No treasures in that vault, for sure. YUCK! C'mon U.S. Forest Service. You can do better than that. I had this fear that my glasses were going to fall into the pit. And I only brought one pair.
As we were cooking dinner on our camp stove, we noticed that Kate our Springer Spaniel, had a nasty sore on one ear as though she had been bitten. We bring a complete first aid kit with us so we cleaned the wound and applied antibiotic cream.
The dinner we made was wonderful. Our new tent, Eagle's Camp, was large and held up great in the wind. All was well, until cold, cold rain started to fall. Allen Sherman's classic comedy song "Camp Granada" started to come to mind:
"Hello Muddah, hello Faddah,
Here I am at Camp Granada.
Camp is very entertaining,
And they say we'll have some fun if it
stops raining."
On Monday, the morning was still cold so we gathered wood for a fire. But things were looking up: Kate's ear was healing nicely!
And then it snowed…not enough to stick on the ground, but we were getting very cold, having listened to the sunny weather forecast and not bringing things like gloves or coats. I started coming up with my own camp lyrics:
"We are freezin', we'll soon be sneezin'
We sure came here the wrong season"
We had another wonderful dinner, sitting by a warming fire. But then we spent the night shivering in our tent under two blankets and a comforter. Got very little sleep. In the morning my hands were shaking while I made a pot of tea. We sat in our car, which at least is insulated, under two emergency blankets that look sorta like tin foil. They are said to help you retain the heat. About 10 AM we said, "let's get outta here!", packed up and headed out of the canyon up to Lake Powell.
We got lost outside of Flagstaff, though, and ended up on an unscheduled tour of Northern Arizona University. Nice campus, but not on our itinerary. It literally took five guys to get us back on course. "Five Guys Burgers and Fries" restaurant to be specific. We had a fantastic burger and they gave us excellent directions. Be sure to stop there if you're in Flagstaff, lost or not. http://gofiveguys.com/menu/flagstaff
Okay, now a long drive north, past cattle ranches and through beautiful desert to Lake Powell. It was much warmer there. The campground, Wahweap, has spotless heated bathrooms with flush toilets and soap! They also have showers and laundry facilities. This is more like it.
Now the trip was back on track. Until we tried to set up our tent and a storm appeared out of nowhere. Not much rain, but lots of wind, which is the enemy of golfers and campers alike.
"The tent's now flattened, we are maddened.
And we wonder what else wrong could happen…"
But the storm quickly left, the sun came out.
We set our dinner, chili, out on the picnic table to defrost while took a walk. When we got back we saw a huge raven eating our dinner. So much for that.
"Not to worry, this trip's a winner"
Until a giant raven ate our dinner"
Always prepared–well sometimes kinda prepared–we had a back-up dinner in the cooler. The next day we took some beautiful pictures of the lake and surrounding cliffs, which are washed in red and grey tones and constantly changing colors as the light changes. Rose our Irish Setter and Kate had fun playing in the water at the nearby beach.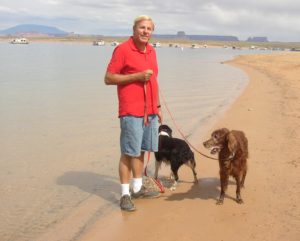 The more time we spent there, though, the less we liked it. The tent campsites are too close together, with limited barriers such as trees. They put us on the far perimeter of the campground, even though there were hardly any other campers there. The traffic from the main road into the area was annoying. The staff at the registration desk were not pleasant and did not honor the discount we were promised when we made the reservation by phone. And let's not even talk about the prices at the store they had there.
But…there was that lovely view. Until a big storm moved in and it rained all night and then into the next day. We did get to catch up on our reading, or in Rose and Kate's case, sleeping in the tent.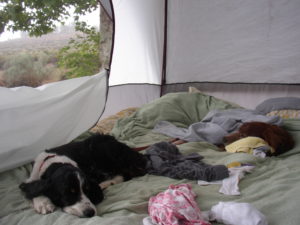 We debated about staying another day but opted to leave. Wise decision. The rain continued the morning we left.
"This adventure made us weary, didn't help the weather's dreary,
But though it's not the best time, we can't wait until the next time."
by Brian