Wicked Six Serves a Wicked Burger
Wicked Six serves a wicked burger. French fries –not so much. The Black and Blue 1/2 pound burger was nestled in a brioche bun, not your plain ole hamburger bun, mind you. Topped with a zesty blue cheese where you could actually see the mold in the cheese. Yes, the blue mold, that's what gives blue cheese its characteristic flavor and scent. Bacon added saltiness and a hint of smoky sweetness. The burger came with the requisite tomatoes, lettuce, onions, and pickles. I picked the dill pickles off. The sourness fought with the flavor of the blue cheese. Altogether a very good burger, bordering on great.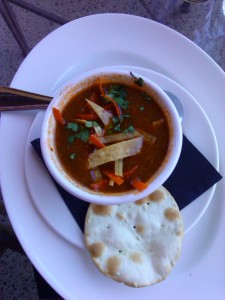 I don't know why restaurants often let their sides slide. The French fries were hot but not at all crisp, not even a little snap when you bite into them. I don't like limp French fries. If I wanted limp fries, I would make them at home. I'm paying for the sides as well as the burger, sandwich or entrée. I expect it to be the same level of quality — not an afterthought. The portion was generous, but it doesn't matter, if the side is mediocre.

The tortilla soup is everything tortilla soup is supposed to be: a rich chicken broth, laced with smoky chipotle, chunks of white chicken, seasoned with garlic, onion and cumin. Topped with — guess what — tortilla strips and shredded cheese with a smattering of fresh cilantro leaves. The downside is the rather small serving.

The menu is heavy on the sandwiches and light on salads, but you have to remember this is a golf club. Golfers need to fuel up either before or after a hearty game. The wicked mac and cheese intrigues me with its green chili sauce and cappicola ham. I'd also like to try the pork pops. Well, there's always next time.

Our wait person, Sam, who is a she not a he, was friendly and bubbly. Took our order quickly, refilled our water glasses and asked if we wanted to sit and chill and enjoy the view, which we did. There was no rush to eat and leave.

About that view. Gorgeous. It wasn't that hot today so we sat on the patio rather in the lounge. However, the lounge is bright and airy with lots of windows looking out on the patio and course.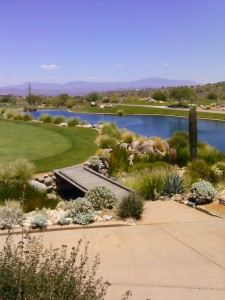 What a lovely way to spend a leisurely lunch in Fountain Hills. Oh, before I forget, Wicked Six Bar & Grill is named for the wicked last six holes of the golf course. It's located on the Sunridge Canyon Golf course at 13100 N. Sunridge Dr. off Palisades.