Through the Wine Country
When we broke camp at Upper Oso, we intended to go to the Big Sur country next, but the campgrounds there were filled so we detoured inland to a campground in the wine growing country called Arroyo Seco, basically on the other side of the mountains from where Big Sur is located. Again, we had a long drive up a mountain road, but at least the scenery was beautiful, field after field of beautiful green grape vines.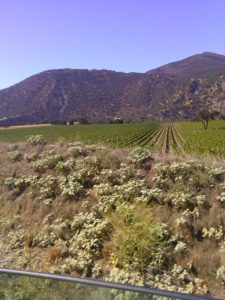 One of the highlights of this segment of our trip was passing through the interesting town of Greenfield. At first glance it looked like a "tired" little place but that wasn't at all the right characterization, we soon learned. It had some of the friendliest people we met on our trip. I stopped and asked where the post office was, and got immediate assistance. The local Wells Fargo bank had helpful employees. The grocery store we stopped at, Rancho San Miguel market, had a wonderful variety of ethnic foods. We wished we had time to try all of the varieties of meat they had. But our cooler isn't big enough!
We discovered the local McDonald's restaurant had Wi-Fi so we were able to catch up on email (I had 500+ messages to go through!). We need to invest in our own Wi-Fi hotspot technology so we have more reliable Internet access and can conduct business on the road.
Up at our Arroyo Seco campground, we found something that delights campers that have been out in the "wilderness" for awhile–nice clean shower rooms. In fact the bathrooms were really clean as well, which isn't always the case. The negatives about this campground were that there was very little privacy between campsites, and they were placed too close together. You end up with a "Rear Window" effect where you can't help observing the other campers as you sit outside your tent and relax. The nearby river, just below the camp, contributed mosquitos to the camping experience. Again, there was a loud group of three families camping together. It's funny how some campers don't realize there are other people there beside themselves–or more likely they just don't care.
This camp also had a strange sound at night–it was, we learned, bullfrogs calling to, we supposed, other frogs down at the river. The first night this kept us up, but by the second night we were so accustomed to it we barely heard it.
When I went for a walk with Rose our Irish Setter, I met some of the other campers who were dog lovers. One late-middle-aged woman perhaps over-shared information about her adventures. She said she liked to go skinny dipping with her friends in a pool by a river in Sabino Canyon, AZ. Not an image I wanted to carry with me on to the next camp.
This location was exceptionally hot, but there was a delightful section of the river with a beach where we could cool off. It was popular with locals as well as campers, though, and was surprisingly crowded at times.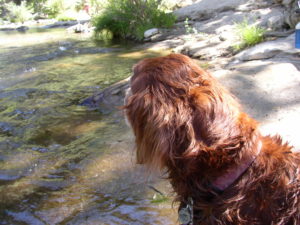 The camp host and Forest Service staff also sold bags of ice–for the slightly unreasonable price of $5 for a small bag. By Friday the camp was completely full and those nice clean bathrooms I described were in rough (read: dirty) shape. Oddly, at first the camp staff only opened two of the four bathrooms–so they wouldn't have to clean the others–until some of the campers complained and they opened all of them.
An odd thing happened at dawn one morning. A guy drove through the camp in a truck, blasting Mexican music. It of course woke everyone up. We are early risers and generally are the first ones out and about in the campground. I thought: What's the purpose of being so rude? I didn't even bring any Taylor Swift CDs to act as a buffer. The bullfrogs croaking was preferable to listening to that guy's music.
The most interesting "neighbors" we had in this camp were two young women with German accents who arrived the night before we left. One was a nature photographer who barely got her tent set up before she got going snapping pictures. Her companion came over to our camp and bashfully asked if she could borrow matches from us because that was the one thing they forgot to bring. I was pleased to be able to give her a whole book of matches. We always pack lots of that vital camping item.
All in all, this wasn't our favorite of the campgrounds we visited. The river was a major plus, given the excessive summer heat.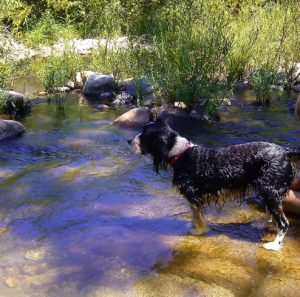 But, we were on our way the next day north again to what we hoped would be a nicer experience at Clear Lake, California.