This Makes No Sense
When we arrived at Lake Roosevelt we chose Cholla loop campsites. Those sites are a mixture of RVs, trailers, motor homes, 3rd Wheelers and tents like us. There are bathrooms with flush toilets for what looks like every 75 campsites.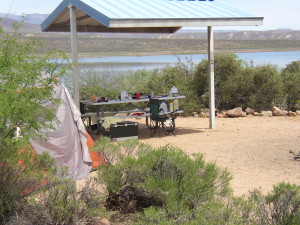 So you're probably wondering what makes NO SENSE. When we took our walk this morning — it's the second day of our trip — we found a loop that had campsites for tents only with gorgeous views of the lake, but no bathrooms except one about 1/4 mile away. So lots of bathrooms for those in the RV, trailer, motor home — which have their own bathrooms but none in the tent only section.
On the other hand it's much quieter in the tent section and no neon blue lights. We moved everything to a new site.
We have a fewi of the lake and a lot more privacy. So we have to walk a bit farther to the restrooms. It's worth it.
Note to self: drive around a bit to find a site you really like.
Dee