The Tale of the Terrible Tent and WalMart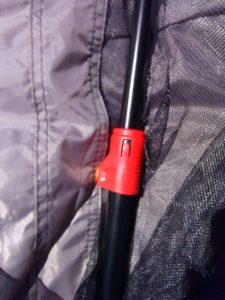 We bought an Ozark brand tent at WalMart on March 20 this year. The first time we used it we were thrilled at how easy it was to put up and take down. The third time we went camping it was difficult to take down because one of the red connections was broken, but we managed. However, putting it back up was a different story. No matter what we did that tent would not stay up. So back to WalMart for a refund. No dice.
They insisted that all they would do is an exchange for the exact same tent. Now I will admit that I didn't have the receipt. I paid cash — silly me.
When we tried to erect the new tent — Two of the red connectors were twisted around and would not lock in place. Totally useless. Back to Walmart. This time they refused a refund, store credit or an exchange. Nada, nothing, no way. Their excuse was that since I didn't have the receipt for the first tent I couldn't prove when I bought it. They implied that it was last year's model. Seriously. It was my responsibility that they sold me defective merchandise.
I talked to the service clerk, the service supervisor, the service manager, an assistant to the assistant manager, and the assistant manager. Finally, finally, finally I got store credit. It took two hours. Lousy customer service if you ask me, but nobody did.
Sheesh.
Dee