Review of Bonita Campground at the Chiricahua National Monument, Coronado National Forest
Nestled in the Chiricahau national Monument, Bonita Canyon Campground is small, only 25 sites and must be reserved online. Unlike some other national campgrounds there is no $8 fee for reservations. The fee is $10 per night. Passes do provide a discount. From Thursday to Monday the site is full. During the weekdays there's an odd chance you can snag a site but don't count on it. There are no other campgrounds nearby so you would be out of luck.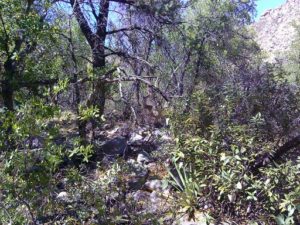 The sites are free from litter. Each contains a tent pad, grill and picnic tables. No fire pit but you are allowed to build a fire in the grill. No wood collecting. Some sites are roomier than others. A few are too small for an RV. During the week we were there we saw several RVs try to finesse their way into a campsite and fail. One stopped and the driver told us while his RV fit in the space lengthwise, tree branches were hanging too low.
Most sites have shade. Each site is cordoned off with split rail fencing. And most have spaces between it and the next site. However, privacy is limited. We had a site that had vacant spaces on each side, but the site in back of us and across from us were only about 20 feet away. The grills were close, so we watched our camping neighbors cook their dinner as they watched us. I guess you make new friends that way.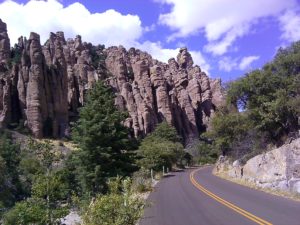 The road to the campsite and in the campsite is paved. While the road is only about 100 feet away there's little traffic so it's quiet, even on the weekends with day visitors.
There is only one bathroom with two stalls on the men's side and two on the women's. Even so I only had to wait a couple of times. Toilets are flush and kept clean. The electrical outlet works in the bathroom, so if you're patient you can recharge your phone. There is no cell phone service but WIFI is available at the visitor's center about 1/2 mile away.
No RV hookups or dump station.
Rangers give presentations on Friday, Saturday and Sunday nights. A van runs from the visitor center and the campsite up to the top of the mountain. The visitor center provides a history of the area including the Apaches and how the Chiricahau National Monument was formed — that's another blog.
Dee
Note to Self: Always have the camera ready. Missed a photo op with the wild turkey.