Parkview TapHouse in Fountain Hills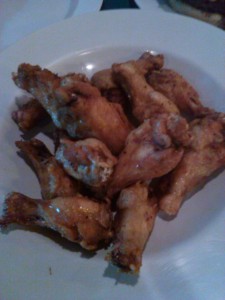 TapHouse Terrific or Terrible? We used to go to the TapHouse years ago, but the food and service deteriorated and we crossed it off our list. I was a little concerned that all the talk about the new improved menu was just that 'talk'. Well I shouldn't have worried. The menu is ambitious to say the least, including burgers, sandwiches, salads, entrees, pizza and appetizers. Speaking of appetizers we started with the wings. Piping hot with a crackling skin and tender meat. You know how chicken wings come in little drummette pieces and the other sort of smaller piece of the wing? Well Tap House serves only the drummette pieces so you get more to munch and crunch.
Now some restaurants depend on the sauces for the flavor for their chicken wings. Chef Michael has a secret method for chicken wings — which isn't secret anymore 'cause I'm telling you — to amp up the flavor. The wings are seasoned with salt and pepper and olive oil, then baked until halfway done. Then they're deep fried. Makes a huge difference. You really don't need any sauce with these. These were some of the best wings I've had. I requested several of the sauces, — mild, hot, BBQ and teriyaki served on the side. I didn't care for the teriyaki, it was a bit on the bitter side. The rest were fine.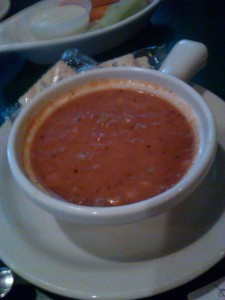 I like soups, so if the soup is reasonably priced I sample it. Chef Michael combines onions, carrots and celery with pureed red pepper then hits it up with a little spice for his red pepper soup. No cans of Campbell's here. The soup is chunky or 'rustic' as gourmands like to call it. I call it good.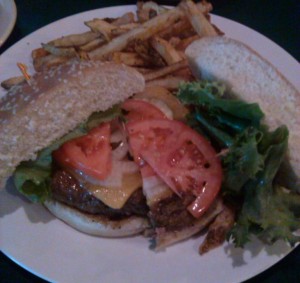 Y'all are waiting for the burger aren't you? The TapHouse burger is a basic burger, juicy, well-flavored and done just the way I ordered it — medium. Topped with your choice of cheese — I picked cheddar — crisp lettuce and tangy tomatoes. I would have liked the bun toasted, but that's just me. I asked for a side of the chipotle mayo. Chipotle mayo can be tricky, either insipid where you can't taste the chipotles at all or flaming hot, overpowering all the other flavors. Ordering it on the side means I can add as much or as little as I like. Unfortunately, the fries were a disappointment. While hot they were limp. I'm a fanatic for crisp fries.
Our server, Lexi, was adorable in the best way. She was prompt, courteous, answered all my questions — and I do have a tendency to ask lots of questions — made sure our drinks were refilled and didn't rush us through the meal. Now, here's a sign she's going to be successful in life. She asked us, not only if we enjoyed the food, but if we were coming back. When we said yes, she then asked us our names. See? That made us feel special. Good job, Lexi.
The décor of TapHouse? Well it's a bar. There's a small platform in the front for live entertainment and a pool table in the back. My complaint is that the lighting is dim and the print on the menu small, so it was a challenge to read. Or maybe I'm just getting older. Now I did say it was a bar, but I would feel comfortable taking a well-behaved child here. Well-behaved because the other kind doesn't belong in restaurants.
Two salads on the menu are intriguing. The Asian which includes seared Ahi tuna served over spring greens, accented with almonds and mandarin oranges, with a wasabi vinaigrette and the Storia — grilled chicken breast with cranberries, apples, candied walnuts, and blue cheese crumbles with a raspberry vinaigrette. Of course my other half wanted to try the prime rib salad, actually he wants to go back on Saturday for the prime rib dinner.
With a name like TapHouse you would expect an emphasis on beer and they do. They have a separate beer menu with a nice selection of craft beers along with popular brands.
Overall, a pleasant experience with good food. TapHouse is located at 16828 E Parkview Ave, Fountain Hills, AZ 85268 · Fountain Hills, (480) 837-5210