Paradise by the Sea in Oregon
We had been warned that the beaches up in Oregon could have cool, cloudy, even wet weather, so we were prepared to be chilly. When we crossed the border into Oregon, taking the coastal route, we did notice the temperature seemed to drop. The drive was interesting, through several small coastal towns, and winding around cliffs and through enormous dunes.
But as we neared our destination, Tillicum Beach in the Siuslaw National Forest, the sky was blue and clear, and we were greeted by warm sunshine. As we pulled into our spacious campsite and got out of the car, we heard the sound of the ocean, and realized that we would be enjoying that all day and as we fell asleep at night. For desert dwellers, this is the ultimate treat!
We quickly set up our tent and then took Rose and Kate down the stairs to the beach. What a sight! The sand was a white and fine as flour and almost as pure. It was about 6PM and there were very few people on the beach. As someone whose beach experiences were mostly at more crowded places like San Diego, it was thrilling to think we had this large stretch of beach mostly to ourselves.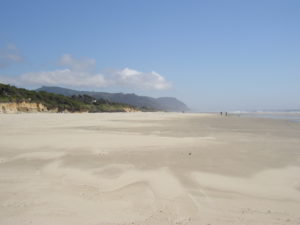 We went wading into the surf and found out it was COLD, COLD, COLD. If you stayed in the water for 30 seconds you felt as though your feet were getting numb.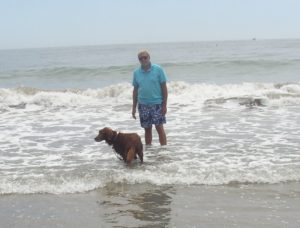 It was pure bliss listening to the waves as I went to sleep that night. I've always found the ocean to be restorative–I've gone on beach vacations several times when I was having career challenges and I always return from the vacation more energetic and positive, ready to face whatever comes. I remember one trip in particular, a number of years ago, where I went out to the beach every night by myself, sat there and listened to the endless rhythm of the waves. Whatever problems I was having at the time, the ocean healed them. It's almost as though the sea shares some of its energy with those who visit it. I wonder what deep thoughts our dogs were thinking as they gazed out to sea…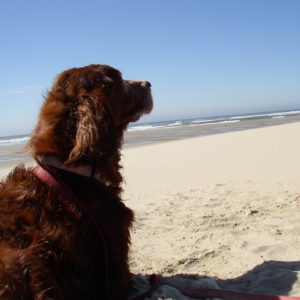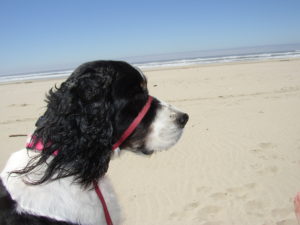 The next day there was no morning fog at all, just brilliant blue sky. We went down to the beach and spent most of the day there, taking long walks and gathering drift wood for the evening fire at our campsite. The evenings did get cool and damp. One morning our car was so covered with moisture it almost looked like it had rained. I grabbed a towel and wiped the SUV down, saving me the cost of a car wash.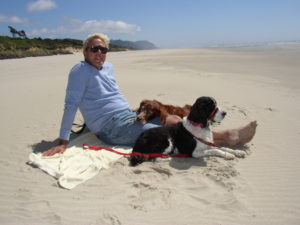 My Irish Setter Rose has suffered from a touch of arthritis in the last year, impairing her mobility, and we have tried various remedies to help her get around without difficulty. What worked was a Glucosomine/Chondroitin supplement combined with a capsule of the spice turmeric. She really enjoyed walking in the soft sand. We decided to test her out and see if she would like to run on the beach with us. She did! It was such a joy to see. She doesn't run like a puppy, for sure, but she doesn't look crippled, either.
We had booked our campsite for just three nights. Our site was reserved by someone else after that. We were having such a good time I asked the camp host if we could transfer to another site and stay a few more days. She said she would keep an eye out any sites that come available. The campground looked completely full so we were afraid we would have to leave. They have some sites that are considered "walk up sites", which many other campgrounds do as well. This means you can't reserve them in advance online or by the telephone. You just show up and hope one is available. Luckily one of the campers departed a walk-up site just when we needed it. With those sites you can stay for up to 14 days (in national forest campgrounds) if you notify the host each day that you intend to stay, and pay your daily fee. We ended up staying a full 8 days we were having such a good time.
The new site we moved to overlooked the beach and the ocean! It was just about perfect. An added bonus is how late the sun sets this far north during the summer. It didn't really get dark until 10PM. We could stay at the beach until 7 or so and still have time to make dinner. I wondered, though, what time the sun sets here in the winter months when the days are so much shorter.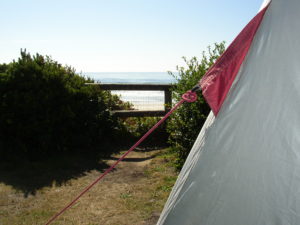 I should mention how the dampness made us feel colder at night than we had expected, even though the temperature did not drop that much. We even resorted to wearing stocking caps in the tent while we slept. Trying to sleep when you are cold is no fun at all, as we have learned on other camping trips. This time, we brought plenty of warm clothes and extra blankets for the bed. We all slept comfortably, listening to the ocean.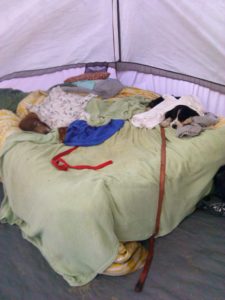 —Posted by Brian