Packing the Car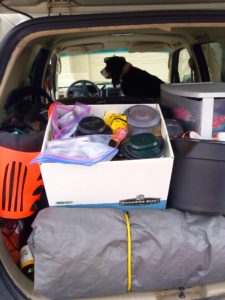 When you're camping for a long weekend you pretty much throw stuff in the car helter skelter and figure whatever you don't have you'll either do without or buy at the nearest store. Not so when you camp for weeks at a time. After forgetting the pillows, first aid trip, air mattress and warm sweatshirts … not all in one trip of course… we now have our trip list.
Our first trip to Sedona/Oak Creek Canyon we only had the space in the car to pack. It soon became apparent that wasn't enough room. If we didn't have our two dogs, Rose and Kate, we may have been able to pull it off. However, an Irish setter and an English springer spaniel pretty much take up the back seat.
We looked at the hard shell roof carriers but they're expensive … around $500, and we didn't want to spend that kind of money and find out it didn't work for us. So we bought a soft-sided roof top Right Line carrier for around $75. It worked. The trick is being patient loading it up.
We tried loading it on the ground but then Brian and I couldn't lift it up. The carrier is water proof. It poured on us several times. I mean so hard we could barely see.
The Right Line carrier is a bit hard to zip when full. The zipper has a Velcro flap that keeps the rain out. It easily attaches to the luggage rack, but also could be strapped in through the car windows.
All in all I'd recommend the Right Line carrier.
Dee
Note to Self: Do I really need to pack three pairs of sweatpants? Probably not.