Leave it to the Italians Arrivederci restaurant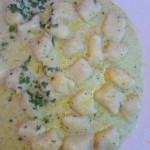 Leave it to the Italians to take potatoes and transform them into little fluffy puffs of plump dumplings called gnocchi. Arrivederci Restaurant performs this magic perfectly. All their pasta is made from scratch. Christian was our wait server and immediately brought a basket of crusty bread to our table with olive oil — good olive oil — and balsamic vinegar for dipping. What a pleasant beginning to our meal on their patio.
We started with the tomato basil soup which captures the essence of sun-kissed, sweet and tangy tomatoes infused with a touch of basil and the richness of cream. The secret here — which isn't a secret any longer — is the addition of sun dried tomatoes which intensifies the flavor. I prefer their rustic chunky texture to the soup rather than the tortuous trip through a blender, strainer and several layers of cheesecloth.
On to the entrees. The gnocchi alla pesto was bathed in a creamy rich sauce redolent with basil and the salty tang of parmesan cheese.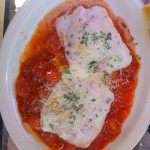 Ravioli alla caprese featured homemade ricotta tucked inside pasta pockets then gently covered with a snug blanket of mozzarella. There is a huge difference between homemade ricotta and store bought. I know because I make it myself. The presentation was lovely as the ravioli were surrounded by a fresh tomato sauce accented with cherry tomatoes.
And finally dessert — who could not love salted chocolate caramel gelato? Not me. Gelato is not just the Italian name for ice cream. Gelato has less air whipped into the mixture while freezing, uses milk instead of cream and fewer or no eggs.
Italian restaurants often rely on the aroma of garlic and cheese to mask mediocre dishes. Arrivederci coaxes the true flavor of ingredients to shine through. The décor is friendly modern. Whole wheat and gluten-free pasta is offered.
After this fine meal, we decided we could bid "ciao" to the Italian restaurants we used to visit in Scottsdale. We have a superior example of Italian cuisine right in our hometown.
So go. Try their happy hour menu — lot of reasonably priced treats. What are you waiting for? Buon Appetito.
Arrivederci is located on the south side of the lake at 12645 N. Saguaro Blvd. Entrance is on the side not on the parking lot