How to Cope With 110 Degrees (Answer: Leave Town!)
That was an easy choice last week when we saw the brutal weather forecast for Metro Phoenix, AZ where we live. But we didn't want to go on a long camping trip because we are planning to go all the way to the magnificent Oregon coast in June. Then we remembered the campgrounds just 1 ½ hour north and east in the tall ponderosa pine forests. In fact, that was the name of the campground we chose, Ponderosa.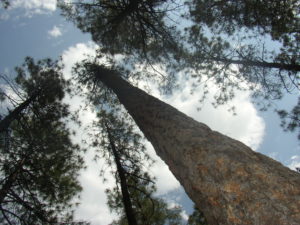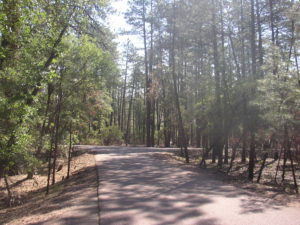 It was still warm there; it felt like 90 degrees of so in the heat of the afternoon. But the nights were blessedly cool and we needed a blanket on the bed. This campground had lots to offer. The pine forest is dense with majestic tall trees, offering seclusion from neighboring campsites. You only noticed the neighbors from the glow of their campfires at night.
The site we picked was amazingly spacious. We didn't have to worry about setting up the tent too close to the firepit. We found a well-shaded area to pitch tent. One of the great features of the Eagle's Camp tent we purchased is that it has wonderful ventilation for hot afternoons. A great summer camping tent. On the other hand, it is not too well insulated against really cold nights.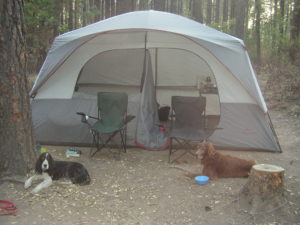 Just after we selected our site and began setting up our tent, a friendly Camp Host named Don stopped by and helped us register for the site and pay for it right there so we didn't have to go all the way back to the front gate of the camp. That saved us time, which is a great help because it takes us over an hour to set up camp. On our adventure to Oak Creek Canyon we were setting up right as night was falling, a race against the darkness. Our objective, of course, it to set up quickly so we can begin enjoying a glass of wine.
Ponderosa Campground, like others we have been to, reserves a certain number of sites for people who arrive without a reservation, like we did. Because we arrived on a Wednesday, we had several nice spots to choose from. The folks who arrive on Friday afternoon without a reservation will probably be out of luck. One alternative is "dispersed camping" which means you pick a spot in the undeveloped forest to camp. You don't have a bathroom or fresh drinking water, though, as you do in the organized campgrounds.
I'd definitely come back to Ponderosa. The only negative I could report about the campground was that it was close to busy highway 260 and so there was traffic noise to mar the peace and quiet at night. Well, I guess I should mention the "vault" toilets (i.e. outhouses) at the camp. The more the camp filled up with guests, the worse it smelled inside these toilets. It reminded me of the old West definition of outhouses: They're named that because you can't wait to get out of them.
But overall, it was a lovely spot to camp.
Another positive about this campground is that it is just a 15 minute trip back down the hill to the town of Payson, where you can find any retail store you need to re-supply your camp. (And we always forget something. This time it was the medicine and first aid kits).
We have learned that camping is much more fun if there is a grocery store and a Wal-Mart nearby!
Posted by Brian