Houses Perched on Top of Houses … That's San Francisco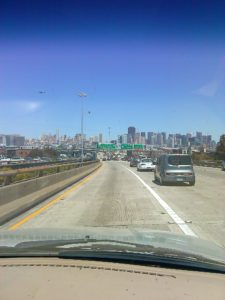 There are few cities that really stand out and San Francisco is one of them. We came up from the south. I drove through Sunnyvale, Palo Alto, and Menlo Park, where all the venture capitalists used to live. I don't think there are many VCs left. Finally the bay comes into view, followed by the skyscraper skyline on the right and thousands of houses on the left. It's surreal because although I know the houses aren't really stacked one on top of another it certainly looks like it. Now onto the Golden Gate Bridge. This is a first for both Brian and I. We've never crossed the bridge or been this far north in California.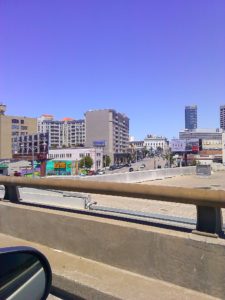 Highway 101 is a nice little 4-lane highway that abruptly changes into surface streets in the heart of the city. I drove past Market Street, Lombard Street, the Performing Arts Center, Nob Hill, and Russian Hill and on towards the Golden Gate.
Now about that bridge. I have to be honest … well no, not really, I could lie my pants off and besides having a naked butt, how would you know? Anyway. I was apprehensive about driving across.
After you get through the city you go through two tunnels. So far, so good. Then the bridge traps you in. You must cross. There are no turn arounds or exits. Over you go.
From a distance the Golden Gate looks overwhelming. When you are on it, you feel somewhat comfortable. The views are stunning. Of course I couldn't look over the side since I had a death grip on the wheel hard enough so your palms start to sweat.
Dee
Note to Self: Bring paper towels to wipe sweaty hands; jeans don't work as well.