Gotta Love Butcher Hook in Tonto Basin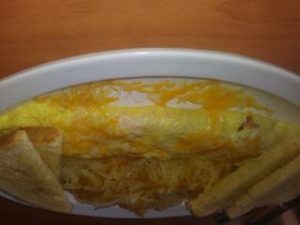 Down home, Old West, friendly staff, huge portions, lots of menu choices and good food. That about says it all. We've been for breakfast and lunch, although Butcher Hook also serves dinner with prime rib available on the weekends.
Biscuits and gravy is one of my favorite breakfasts and Butcher Hook does it up right. The biscuits are made on site, flaky and tender. The gravy actually has bits of pork sausage, most gravies don't or if they do it's such a tiny amount it adds no flavor at all. The dish was piping hot.
Brian had the ham and cheese omelet served with hash browns and your choice of white, wheat, rye, sourdough, English muffin, or a side of biscuit and gravy. The omelet was fluffy and filled with lots of tangy ham and rich cheese.
For lunch we had French dip sandwiches served with your choice of sides. The beef was crispy on the edges and tender in the middle. The bun was toasted which means it could soak up more of the au jus, that's a fancy French term for beef juice. Just lovely.
Décor? Well there isn't much. The booths are a bit worn. The walls are decorated with Western photos including the dam at Roosevelt Lake. The staff? Who needs décor when the staff is so friendly? When you walk in you're greeted with smiles. The service is prompt. You get what you need when you need it, but the wait staff isn't overbearing. They also don't rush you out the door. We had breakfast Sunday morning. The place was busy but we didn't feel like we had to bolt the food down and leave. We had a nice leisurely meal and stuck around reading the paper for awhile. Of course, we would have left if the tables were all full.
If you're up in Tonto Basin make sure you make a stop at Butcher Hook.