Exploring the Area and Meeting Neighbors
We found two nice beach towns near us during our visit to Tillicum Beach, Oregon–Waldport and Yachats (pronounced YA HOTS). We explored Waldport and found it had a large grocery store so we could re-stock our supplies for the rest of the trip. We actually brought enough staples like rice and beans, and canned goods to last two months if need be. We learned we could pack a lot lighter than that next time. I don't know why we thought we wouldn't find grocery stores on route to our campgrounds. We're still in America, after all. Back at Tillicum, we began to make dinner when our neighbor stopped by and asked me to take pictures of their group. We ended up visiting their camp and having a glass of wine.
They asked us what we do and when we said we were authors, their eyes lit up and they wanted to know all about what we write. They had lots of questions about what it's like being a published author. When I used to tell people I was a management consultant, I got a very different reaction: they would look very bored, not ask any questions, and never offer us a second glass of wine.
One of the fun things about our trip was the interesting people we met at neighboring campsites. These guys were from Idaho. They shared useful information like where we should camp in their state. Maybe because we are writers, they recommended that we visit Ketchum, Idaho, where Ernest Hemingway had a house. I did some research and found out he killed himself in the main entrance to the house, in 1961. I'll probably skip stopping by that house if we go to Ketchum one day. Not the cheeriest place for authors to visit.
We also learned from these nice folks how to get back to Interstate 5 on our return trip.
They left early the next morning, like 6AM. That evening just before sunset another camper "checked in" to their site, a biker dressed in all black, riding an intimidating looking, huge motorcycle. Off came the helmet and it was revealed…the biker was a young female. You never know whom you will encounter when camping. She had a tent and other gear neatly packed on the back of her motorcycle. She got up at dawn the next morning and left. Sometimes campers just stop for one night on their way somewhere else. This woman barely got any time to enjoy the beautiful view of the ocean.
That evening there was a very unusual sight on the beach–goats. Yep, some campers brought their two pet goats with them. The goats seemed pretty well behaved and were eager to have people pet them.
On Wednesday we learned that the weather forecast called for three days of rain, Friday, Saturday and Sunday. As much we were having a great time there, sitting in our tent in the rain didn't sound too appealing so we decided to start back to Phoenix on Thursday. The other issue was that our trip had gone way over budget, mostly because we underestimated how much gas we would use and how much gas costs in California.
And just as forecast, the clouds started rolling in that morning.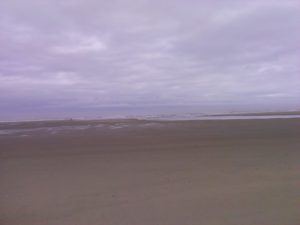 Saddened to be leaving such a gorgeous place, we took one last walk on the beach before we left. And tried to psych ourselves up for the long drive down through Oregon and California, and across the desert to Phoenix.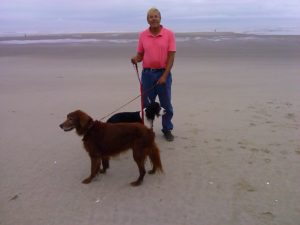 —Posted by Brian