Enough of These Windy, Steep Roads Already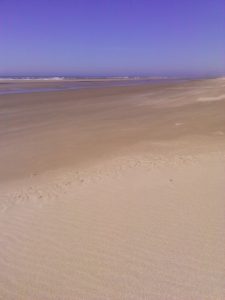 You would think because it's called a "highway" that Highway 101 would be a nice wide, straight thoroughfare. It's not from about Panther Flats to Tillicum (Waldport, OR). Yes, there are passages you can go 65 mph, but most of it is a narrow two-lane road. Sometimes the hairpin curves are right next to a cliff that plummets down to the ocean. Yes, the views are stunning. But we're talking nearly 300 miles of this kind of road. Rant is over.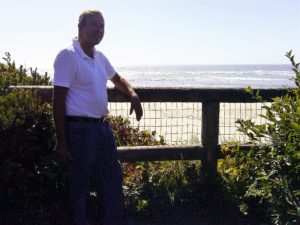 We passed the famous Oregon dunes, miles of sand up from the ocean invading the forest. The coast line so far is mostly cliffs with rocks jutting up from the waves. Bigger rocks, almost island-size support fir trees and other plants. Several times it seemed the road was level with the waves. It's one extreme to the other. The weather varied from windy, foggy and cold to cold, foggy and windy.
Oregon is very different from California. The pace is more relaxed. Remember we're not near any big city yet like Portland or Eugene. We traveled through farmland and deep green forests laced with ferns and wildflowers including foxglove, daisies, yarrow, Queen Anne's lace, deep pink wild roses, daylilies, and several lovely flowers I have no idea what they are: star-shaped blue blossoms, shocking pink – what looked like snapdragons and yellow climbing flowers.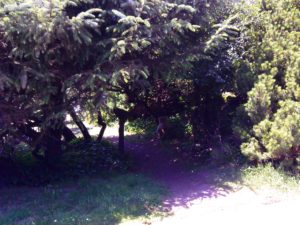 We finally arrived at Tillicum beach at the Siuslaw national forest just as the sun breaks through the clouds and the fog clears. Coincidence? I think not. The campsite is above the beach which is a good thing because I have no idea how we would have staked the tent down in the sand with all this wind. The site we have is tucked away in a little grotto. It opens to a wide area protected from the sea breezes by shrubbery, except for a section along the fence where we have an ocean view.
The beach itself is a short trip down the cliff by way of stairs. I have never seen a beach this broad and long and beautiful with so few people. We get our tent set up, the car unpacked and down we go to have a lovely glass of chardonnay on the beach.
Dee
Note to Self: Put extra blanket on the bed, we will need it tonight.