DJ's Bagel Cafe in Fountain Hills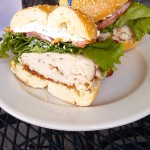 DJ's Bagel Café in the Safeway shopping center — great sandwiches, mediocre sides — at least the ones that I tasted. You have to like bagels to like DJ's Bagel Café. Those plump rounds of bread are offered in a wide assortment of flavors from sourdough to rye. I didn't count, but there must be at least 12 different kinds. The wait staff is polite and friendly. I ordered the Jimmy Jerk turkey on sourdough. A very generous portion of mildly spicy roasted turkey is complimented by smoky bacon, tangy tomatoes and brightened with crisp lettuce. The herbed cream cheese pulls all the elements together and is much more satisfying than mundane mayonnaise.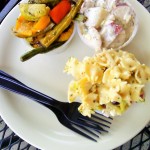 Several specials are offered every day or you have the choice of making your own Dagwood delight with whatever selections you would like. Two soups of the day — the one that intrigued me was cream of mushroom made with Brie.
The wait staff quickly and politely fills your order and brings your selection to your table. How they remember who ordered what is beyond me. The place was full when we went with a line out the door, but the line moved quickly. We had our food in about 10 minutes.
The meats, cheeses, bagels and flavored cream cheeses are sold by the pound. Juices and flavored coffees are on the menu as well. Cookies, muffins and cannoli round out the menu.
Now about those salads. I had the grilled vegetable which showed off an interesting assortment of vegetables including mushrooms, asparagus, green beans and Brussels sprouts among other veggies. The problem was the veggies were mushy and I couldn't taste any dressing, just oil. The Greek pasta salad was way short on feta cheese and mostly was pasta. The red potato salad was okay but rather bland. DJ's also offers coleslaw, macaroni, cucumber and shrimp salads.
I was disappointed in the cannoli. It was stale, no other word for it.
I'll go back to DJ's for their sandwiches and their breakfasts, which I always enjoy. Gotta try that mushroom brie soup.