Camping on the Beach! (A Preview of an Upcoming Blog)
Rose the Irish Setter and Kate the Springer Spaniel here…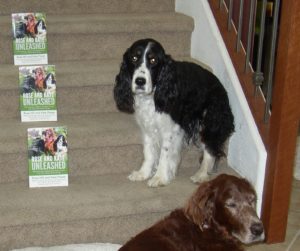 We are taking over the "Adventures of Brian and Dee" blog today, as guest canine columnists. We have our own blog http://blog.roseandkate.com/ where we talk about our own adventures and give our opinions about a whole bunch of subjects. When you've been around as long as we have, you wanna share what you learned with young pups and especially humans, who need all the help they can get, I tell 'ya. So, Dee and Brian told us that we are going on a big adventure to California, near Pismo Beach, in a couple of weeks. And we will be camping right on the beach! We'll drive onto the beach and pitch our tent right in the sand. That sounds really exciting!

But canines worry because our two-legged companions don't always plan these adventures out as well as they should. We're worried that they may park the SUV too close to the water's edge. When we've been to the beach before, we've noticed that the water climbs up the beach part of the day then goes back down part of the day. I think it's called tides. Something about the moon, we think. We thought the moon was just there for us small wolves to howl at. But anyways.

We hope Brian and Dee noticed this tide thingie, too, and we don't park too close to the shore when the tide rolls in. Otherwise, we see this adventure going kinda this way…

As the scene begins, Rose and Kate are sitting on the beach in the evening, watching with fascination as Brian and Dee run out of the tent and into the surf, as their SUV is swept away into the water.

Kate: Why is our SUV drifting into the water, Rose?


Rose: Tide's coming in, SUV's going out. Pretty simple.
Kate: It looks like they're chasing it. Should we help them?
Rose: No way. There's sharks out there and you look like a tasty baby seal.

They continue to watch as Brian and Dee reach the SUV.

Rose: Any idea why Brian and Dee are climbing on top of the SUV?
Kate: Dunno…it's too late at night to go for a boat ride.
Rose: Now they jumped back into the water and are swimming back to shore.
Kate: Guess we won't be going anywhere in the morning. I was hoping to keep riding up the coast and seeing those Redwood trees Brian told us about.

Brian and Dee get out of water and sit on the beach, exhausted, as the SUV continues to be pulled out to sea.

Kate: Hey Rose, you wanna walk up to Shell Beach and check in at the Cliff's Resort? http://www.cliffsresort.com/
Rose: Great idea, Kate. They are very dog friendly over there. Dee told me they even have a special menu for dogs. I want to try the Woof Woof Boeuf–Steak, Eggs & Hashbrowns. How yummy does that sound!

Kate: You think they'll have a room for us? It is summertime.
Rose: Don't worry, we're famous canine authors, yanno. I'm sure they'll welcome us. Maybe we could paw-tograph some copies of our book, Rose and Kate Unleashed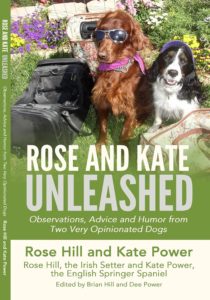 Kate: But what about Brian and Dee? We should at least have room service bring them some dinner to the tent.
Rose: What a nice thing for us to do, Kate! They aren't going anywhere. They'll be waiting and hoping for the SUV to wash back to shore.
Kate: Think that will happen?
Rose: Nope.