Bananas, Bread, Bullets and Batteries
When you travel through a small town you see interesting combinations of retail offerings. You expect higher prices — sometimes much higher prices such as $4 for a can of beans — and a limited selection. If the store is near a lake, fishing gear and bait are displayed along with sunscreen and paper towels. What you may not expect to find is an ACE hardware store inside an IGA grocery store (and no I don't know what the letters stand for in ACE and IGA.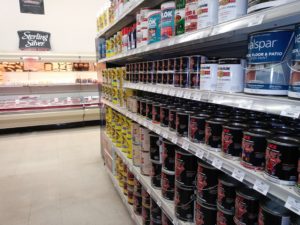 So I walked pat the rows of fertilizer and garden tools on the way to the produce department. Some may find that ironic. Paints and brushes are across the aisle from soda and juice. I wonder if it would have been a better idea to put all of the grocery store items in one half of the store and the ACE stuff in the other half. But that's not how it was arranged.
We visited this store in Tonto Basin before it became a combo and was just a grocery store with a few sundry items. The hybrid store does make more productive use of the space. What I don't like about it is the odors of chemicals intermingling with the food smells.
In case you're wondering, the combo store does sell booze and bullets, along with the bread and bananas.
Dee
Note to Self: I guess that's progress.