And we're off.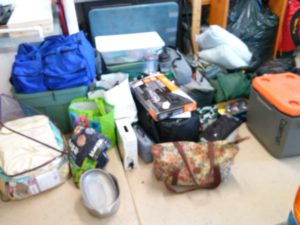 Today is the day we start our first 30 day adventure. We drive from Maricopa, AZ to the Cleveland National Forest — why they call it the Cleveland National Forest, since it's not anywhere near Ohio, I have no idea.
The campground is 50 miles east of San Diego. High temperatures in the mid 70s. Lows in the 50s. Nice and cool with shade trees. Metro Phoenix is projected to reach 101.
Yes, we were able to fit all this stuff in our mid-sized SUV with a luggage carrier. Amazing! Brian does a great job of organizing every nook and cranny and believe me we need it all.
Remember our backseat is for Rose and Kate, our two dogs– I mean four-legged companions.
I may not be able to post to FB or our blog http://AdventuresofBrianandDee.com every day but should be able to at least every couple days.