A Grave Sight
When you visit small towns off the Interstate Highways you may come across unusual sights, such as a small — what looks to be private — grave yard.
I'm not one of those people who likes to meander around looking at head stones and exclaiming over who is buried where and when. And because this is probably a private grave yard, I didn't want to open the gate and intrude. I know, I know, who would I be bothering if I took a quick peek? But still…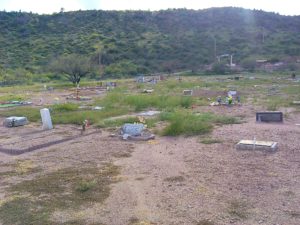 What I found was a bit unsettling were the two shovels propped up against a covered work bench. Did they just finish a funeral or waiting for the next resident?
Dee
Note to Self: Quit reading Stephen King at night — in the tent — in the dark.