Will I go back to Papa Murphy's Pizza?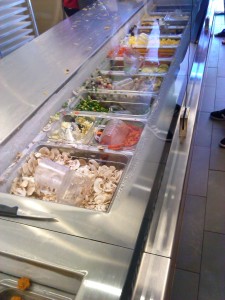 Papa Murphy's pizza — will I go back? You know when you bite into a pizza the next day it never tastes as good as when freshly baked? Or by the time you get that take out pizza home, the cheese is starting to get rubbery as the pizza gets cold. Papa Murphy solves that problem with fresh ingredients on a pizza you bake yourself. The 21 toppings — yes I counted them — are freshly chopped at the shop. The cheese is freshly grated. There's a huge grinder in the corner you can watch them get to work grating. The meats are precooked so you don't have to worry about any nasty bacteria.
I went down on grand opening Saturday and ordered the $4, normally $10, pepperoni pizza. There was a line, of course there was a line when you offer $4 pizza, but it moved quickly. There were probably eight people in front of me, but I only waited 10 minutes.
Papa Murphy's offers a number of pizzas from chicken garlic to cowboy. Or create your own from the 21 toppings, cheeses and meats. All this is fine and dandy but, what about the pizza?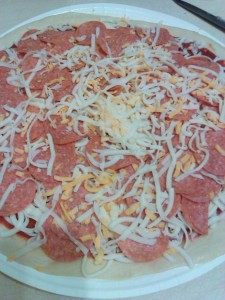 Let's start with bottoms up. I chose the original crust. It raised nicely and browned after 15 minutes. It was thick enough to have some bite to it but I didn't feel like I was eating a pepperoni sandwich. You know when you get more crust than any other ingredient. The sauce had a kiss of heat, just enough to make you sit up and take notice but not at all "spicy." I would have preferred more oregano and fennel flavors in the sauce.
Usually when you order a pepperoni pizza you get a slice here and a slice there. Not at Papa Murphy's, they piled on the pepperoni to the point the slices overlapped– a ponderous pile of pepperoni. The cheese was generously applied to both under and over the pepperoni. Taking the first bite let me know this was good pizza, even if I baked it myself. And to answer my question, yes I'll be back,if I hadn't just it yesterday, I'd pick some up for the big games today.
Don't be scared off that you have to bake this yourself. It comes on a special pan – you don't need your own. Remove the plastic wrap and tuck this baby in a 425 degree preheated oven for 15 minutes — you might need a few minutes more or less — until the bottom of the crust is brown and the cheese all oozy and melty.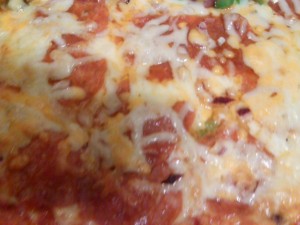 The location I reviewed is at 13525 N. Fountain Hills Blvd, Fountain Hills