Vegetables Take 24 hours to Dry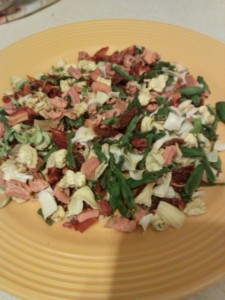 After 12 hours I rearranged the dehydrator trays so the ones at the bottom closest to the heat source are now at the top. The Potatoes took the longest to dry — the full 24 hours.
One thing I didn't think about was that the vegetables dried to about one quarter their original size so some fell through the grates of the trays.
If I was going to do this on a regular basis I'd dry all of one type of vegetable at once. I did keep the potatoes separate. I have the feeling they're not going to work out too well.