Sun Baked Pastry Shop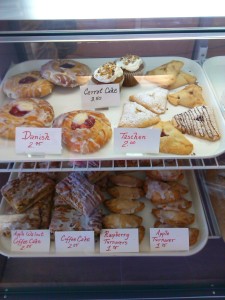 Open the door and the scents of vanilla, cinnamon and apple beckon you inside. Lots of different selections but not overwhelmingly so. When I arrived three different quiches vied for my attention. I finally chose a slice of the sausage, onion with Gruyere cheese. The crust was tender, flakey and ever so slightly sweet. Leanne had a generous hand with the sausage fragrant with fennel. The custard was firm without the slightest bit of wateriness. I just hate when you have quiche and it drools on the plate.

Quiche sounds like a simple dish to make — eggs, milk or cream, and cheese baked in a crust. However, I can tell you from personal experience you can go wrong at every step. The bottom crust turns out soggy. The crust around the rim burns. The filling separates known as curdling and the filling weeps — that watery mess on the plate when you serve it. The custard at the center is uncooked while the custard near the perimeter is overdone.

Sun Baked Pastry Shop's quiche is nearly flawless. The portion was on the small size but then quiche is very rich so you really only need a small slice. I didn't ask but I bet you could order a whole quiche, pick it up in the afternoon and serve for breakfast the next day. Quiche tastes good at room temperature. If you want to reheat, use your oven. Do NOT use the microwave. The crust gets soggy.

I'm not a cookie person, but thought that I should try at least two varieties. The Mexican wedding cookies are round crumbly nutty morsels of delight covered with powdered sugar — messy but good. The lemon sandwich cookies boast two layers of shortbread with a tangy filling. I would have preferred more of a hit of lemon, but that's just me.

Their Danish is decent but you can get decent Danish at any grocery store. What you can't get is the apple walnut coffee cake. If they served coffee cake in heaven this would be the one. The apples and walnuts are chopped finely so you get a taste in every luscious bite. Streaks of cinnamon grace the many layers of the cake. A thin film of icing adds the final touch but doesn't overshadow the cake.

Once the people of Fountain Hills discovered this gem, it should be successful. Heinz and Leanne have opened a lovely little bakery shop — and it is tiny in space but big in taste — at 16842 E. Parkview Ave. No.1 between Phil's and harvest . Sun Baked Pastry Shop is open 8 AM to 4 PM, Monday through Saturday.