Portillo's Misses the Mark
Portillo's misses the mark. They say "we serve our burgers straight from the broiler to you." Well then why was our bacon cheeseburger only lukewarm? Because it was probably waiting around for a while. We went during the busy lunch hour and I have to say the line moved very quickly. It took less than 10 minutes from ordering to receiving the food. So I really don't understand why the burger was barely warm, the cheese gloppy and the bacon limp, not crisp.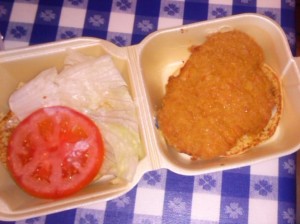 The breaded chicken sandwich was tender with a light crunch and not too much breading. It wasn't greasy and was piping hot.
However, the Italian beef sandwich was not something to write home about. Not something to write about anywhere except in this review. I asked for extra gravy which isn't really gravy but more like an au jus with added beef broth. That's exactly the way it's supposed to be — not a thick gravy. I could taste the Italian seasonings but not the beef. It could have been thinly sliced mystery meat. I mean I'm sure it was beef it just didn't taste like much of anything.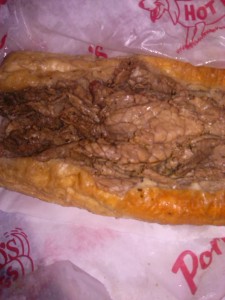 Now I know that Portillo's huge dining area is noisy. Noisy to the point you can't talk across the table, but that's okay. In some respects I think that's what Portillo wants because it encourages you to hurry up and eat so they can turn the table over — that's restaurant talk for getting another set of customers at that same table. The faster the tables turn over the more money they make. Prices here are slightly above fast food places.
The menu consists of burgers, hot dogs, and chicken sandwiches — and of course Italian beef and sausages. A full assortment of salads and sides are offered including fries, onion rings, and oddly tamales — the only Mexican dish on the menu. There is one vegetarian offering — grilled vegetables and portabella mushroom with Havarti cheese.
I've been to Portillo's four times now. Don't think I'll be going back. There are enough good restaurants in Fountain Hills to keep me busy.