Pisa Pizza Has a Winner in Wings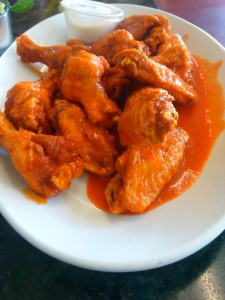 Pisa Pizza has a winner in wings. Crunchy buffalo chicken wings bathed in a spicy creamy sauce served piping hot with a tangy blue cheese dipping sauce on the side to cool down the heat. What's not to love? I should have ordered some garlic bread to sop up the sauce it was that good. The wings are offered as mild, medium, hot or BBQ. Mine were medium and had plenty of heat, enough to leave my lips tingling.
One thing that was amiss. The wings were supposed to be served with carrot and celery sticks and mine were left off. Now you're probably thinking "why didn't I tell management I didn't get the veggies?" First of all the wait staff should have caught it without my asking. Second, I didn't know the wings came with celery and carrot sticks until I looked at the menu writing this review.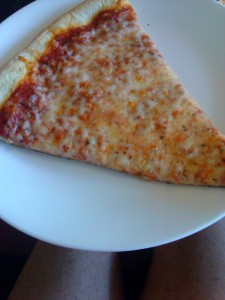 I ordered a slice of the New York style cheese pizza as did my dining buddy. The sauce had a nice tang from the tomatoes seasoned with a bit of oregano, topped but not overloaded with cheese. I love the way thin-crust pizza snaps when you bite into it but sadly this crust was on the limp side. I tasted my companion's pizza and his wasn't crisp either. The price of our lunch was very reasonable and portions generous.
Pisa Pizza's full menu offers gourmet pizza, create your own pizza, hot and cold sandwiches, calzones, something they call New York bread which is a loaf of stuffed bread, pastas and several Italian entrees. I plan on coming back to try the veal Marsala and veal piccata served with pasta, garlic knots and salad. If you're not into veal it comes with chicken as well.
The restaurant is nice-sized on the inside supplemented by a shaded patio area outside. A homey touch were the little black vases with white silk roses perched on each table. There is no wait staff to take your order at your table. You march up to the counter, order and pay for it and when ready the staff delivers it to your table.
Pisa Pizza is located at 16650 E. Palisades Blvd — the intersection of Palisades Blvd and La Montana. www.PisaPizzaAZ.com, 480-836-7500. They do deliver.