Monroe's Marvelous or Mediocre?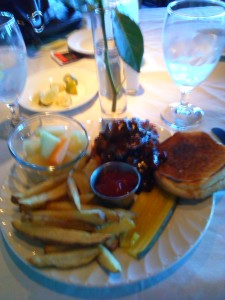 Monroe's — the review you've all been waiting for … okay so like maybe three of you have been waiting. This restaurant has potential but has some work to do to reach it. I almost always go for lunch when I try out a new restaurant. The prices are cheaper than dinner, portions smaller and the quality is the same as dinner or at least it should be. My dining partner had the pulled pork sandwich. — smoky, sweet, tangy sauce smothering tender, moist, pork on a toasted bun. Some places just slop the sauce on top of the pork and call it a day. Monroe's tosses the pork in the sauce so every bite is covered. Most of their lunch entrees are served with a fresh fruit cup. Ours was cantaloupe, honeydew melon and pineapple.
Now what can I say about soggy French fries that I haven't already said. Not much. Please don't tell me to ask for crisp French fries — that's like asking "Could I please have my ice cream frozen."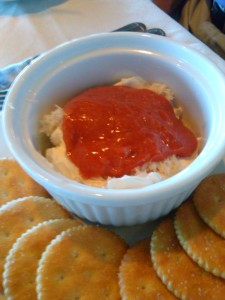 A nice touch was the idea of a complimentary appetizer of cream cheese and crab with a few dollops of cocktail sauce served with Ritz crackers. I could have used less dollops and more crab — but crab is expensive. This needed a few tweaks to become a good appetizer — free or not.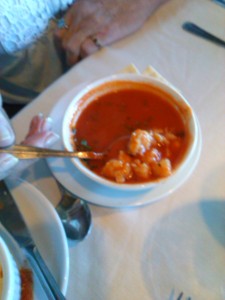 Another area where Monroe's needs a bit of work. My lobster and shrimp bisque didn't taste bad — but if you were expecting a classic bisque this wasn't it. Seafood bisque is made with a base of seafood broth: lobster, shrimp and crab shells simmered with aromatics. If you haven't got shells to simmer you can use chicken broth instead.
This base was intensely of tomatoes to the point that the tomato flavor overpowered the shrimp and lobster. What I did like were the chunks of shrimp and lobster meat. No skimping there and they were cooked through but not overcooked and rubbery. Our wait server, Stephanie, said that each order of bisque was prepared individually. The chef cooks the seafood in the shells, then removes the shells and adds the meat to the bisque.
Stephanie is a delightful server, friendly, efficient and knowledgeable about the menu.
The lunch and dinner menus are limited. Limited is not necessarily a bad thing if it means the chef can concentrate on a few dishes rather than 40 or 50. No main dish salads for lunch that I saw. About 14 choices for dinner including steak, prime rib, fish, chicken, shrimp, prime rib and a pasta dish. No vegetarian items. Of course they offer their signature dish The Great Gathering — filet mignon and a 6 ounce lobster tail. Dinner entrees are served with soup or salad, potatoes and vegetable of the day.
The décor of Monroe's is casually elegant. Fresh white and roses greet you at the door and are in vases on each table. I liked the artwork on the glass doors, the fountain spraying from a martini glass. One thing I didn't understand was why there was country western music playing with the theme of Monroe. Didn't make sense.
I give Monroe's 3 stars out of 5. Located at 13014 N. Saguaro Blvd across from the fountain 480-264-3851