Fountain Hills Back to School Drive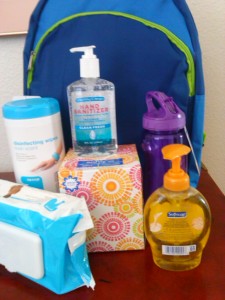 BACK TO SCHOOL DRIVE Remember how excited you were that first day back to school with your brand new backpack and school supplies? Let's share that feeling with less fortunate children.
A few of us put together a food drive for Extended Hands Food Bank. While there, I talked with Lisa Hadsall of Max's Closet. They are in desperate need of back to school supplies. So let's help.
Schools usually have enough pencils, paper, crayons and so forth but not personal supplies. Backpacks are a high priority (Walgreen's has them for $3.99) Also needed are ziplock bags (quart and gallon size) box of tissues, bleach or disinfecting wipes, unscented baby wipes, lg bottle of hand sanitizer, and liquid hand soap. Not required but a nice touch would be juice boxes and individual serving size snacks.
Let's start the drive July 18 and end it July 31. Distribution to the 130 school-age children registered with Max's Closet can begin August 3, the week before school starts.
Drop off for donations right now are Laura's Place (restaurant) 16758 E Glenbrook Blvd, open noon to 8 PM and R&S Mattress located at 16740 E Palisades Blvd, 9 AM to 7 PM. We could use one more donation site on the south side of Fountain Hills. Any volunteers?
This drive is a community effort. There are no official "sponsors" or groups behind it. It's people helping people. Help spread the word. If you have a club, organization, Fountain Hills related Facebook Group, or church group, please let them know about the drive. Perhaps some of the vacation Bible School classes could make this a project. 130 children! Let's see if we can't get every single one of them a new backpack and personal supplies.