Chocofin a Chocolate Lover's Paradise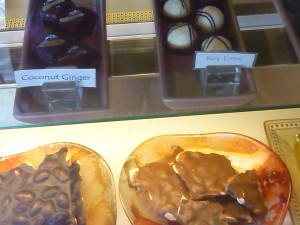 Open the door to Chocofin and you're greeted by the redolent, rich, fragrance of chocolate. Glide past the freezer case of ice creams, including of course chocolate. Land in front of the pastry case holding chocolate mousse cake, German chocolate cake and the slice I chose, Belgian chocolate torte. A glorious concoction of chocolate, chocolate and more chocolate crowned by a layer of dark chocolate glaze. The slice is big enough to share if one wanted to and this "One" doesn't. Onto the chocolates, 31 different choices covered in dark, milk or white chocolate hiding luscious fillings.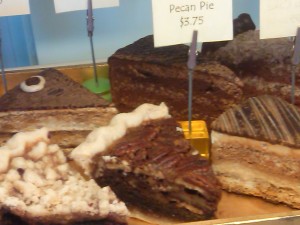 The Roasted Raspberry takes raspberries reduced from roasting in the oven to concentrate the flavor and enfolds them in rich dark chocolate ganache. The Valrhona features imported French chocolate surrounding a hazelnut.
For the more adventuresome try a Hot Chile three types of chile — guajillo ancho and chipotle — give the creamy center a hint of heat that lingers on the tongue. This is not an overly spiced chocolate where all that hits you is the heat.
The chocolates are artfully decorated and would make a lovely gift if you're feeling generous. Did I mention I don't share?
I can't wait to see what new flavors are concocted by the owners, Louis and Denise Mirabella, former pastry chefs. The chocolates, cakes and cookies are made right there in the shop.
Planning a wedding or other celebration? Order the chocolates in gift boxes of 1 or 2 pieces as gifts for the guests to take home.
When I go back — which will probably be tomorrow — I'm dying to try the Turtle Truffle one of the shop's best sellers, the Salted Whiskey Caramel — what is it that makes salt and caramel such a divine combination, and the key lime encased in white chocolate.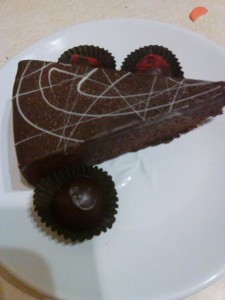 Chocofin does offer a few selections of sugar-free chocolates, chocolate bar and a sugar-free Belgian chocolate torte .
Chocofin is located in the Bashas shopping center next to the bank and Nabors realty, 13404 N. La Montana Dr. #2 480-836-7444 http://www.chocofin.com