All for All American Sports Grill
It's always best to start at the beginning so we began our lunch at All American Sports Grill with chicken wings. Crispy on the outside with tender moist chicken on the inside, bathed in a sweet and spicy sriracha sauce. These were not itty bitty boneless wings but good sized. The celery and carrot sticks served on the side looked a little tired, but I didn't care, the wings made up for it. I have to say these were some of the best wings I've eaten. The burgers are half-pound monsters, way too big for one person. So we split a burger. The rich taste of the beef was complemented by a topping of sweet caramelized onions and just enough blue cheese, so you knew it was there but it didn't overpower the meat. The requisite lettuce, tomato and mayonnaise made their appearance on a toasted bun. However, it wasn't just any mayo but a garlic-infused mayonnaise.

Their coleslaw is made with Napa cabbage which has a milder flavor than green cabbage. I also tried the sweet potato fries. Now these have a tendency to get mushy if they sit around or are fried in oil that's not hot enough. All American Sports Grill nailed it with their sweet potato fries.

The menu is well rounded with a selection of sandwiches, salads, pizzas and burgers. Next time I may order the pear and blue cheese pizza topped with pine nuts, arugula balsamic vinegar, basil oil and shaved Parmesan.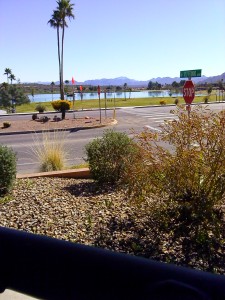 The menu's emphasis is on meat which is what you'd expect at a place named the All American Sports Grill but they do offer some vegetarian options with their grilled portabella and roasted red pepper sandwich, the majority of their salads and several pizzas including Pesto, margarita and Florentine. Each gluten-free dish is marked as such.
All American Grill is located at the intersection of Saguaro Blvd and Avenue of the Fountains. The patio has a view of the fountain and would be a perfect spot for sipping a pear martini, passion fruit margarita or strawberry basil mojito.