An Italian cheeseburger?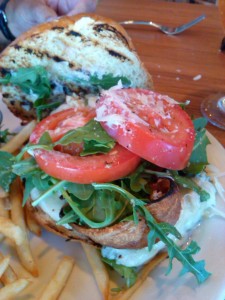 When you think Italian food you probably don't think of burgers. However, the Chris's favorite burger at Arrivederci combines Italian ingredients with that All American favorite — the cheeseburger. But not just any cheeseburger. We're talking a 1/2 lb ground beef burger nestled on a grilled brioche bun complimented by the saltiness of pancetta, the unmistakable tang of blue cheese and pleasantly bitter arugula — oh yes, let's not forget the tomato and aioli — garlic mayonnaise. Nicely done. French fries well — they filled up the plate. Next time we'll order the green salad instead.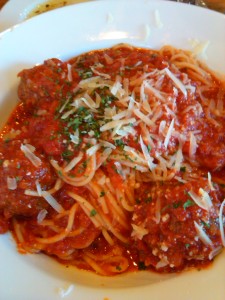 Spaghetti and meatballs or Polpette allas Siciliana, as it's listed on the menu, is one of the dishes that tells you if the chef knows what s/he's doing. And the chef at Arrivederci certainly does. It's not a complicated dish so each element has to shine.
The spaghetti was al dente. One trick chefs use for meatballs is to soak bread or bread crumbs in milk and combine with ground beef. The downside is if you let the bread soak too long or don't squeeze out the excess moisture, the meatballs are mushy. These were tender but held their shape. The marinara sauce was exactly what you would expect marinara sauce to be, fresh, mellow and sweet with a hint of garlic. The dish was piping hot so you know it wasn't sitting around under heat lamps. An added touch was the tableside grating of Parmigiano-Reggiano cheese.
I only have two minor complaints (besides the French fries) and I wouldn't even call them complaints, really. Replace the pepper shakers on the table with pepper mills. Freshly ground pepper is much more flavorful than ground. And the second is to use fresh basil as the garnish on the spaghetti and meatballs rather than dried herbs. Picky? Yes, I know.
Our server, Eugene, was knowledgeable about the menu and ingredients. When he didn't know something which was rare he found out the answer. The crisp pace of service brought bread and dipping sauce immediately to the table, kept our water and ice tea glasses refilled, and questions answered — I do ask a lot of questions. We did have to wait a bit for the food, but that's understandable.
The décor is modern and bright with warm earth tones. A mural behind the table in the entry way greets customers. One nice touch was that the stonework on the wall surrounding the patio is repeated behind the bar. Tables are far enough apart so you don't feel like you're sitting in your neighbor's lap.
This review is posted on my personal FB page to share https://www.facebook.com/dee.power.507 and on my blog
Arrivederci is located at 12645 N Saguaro Blvd Ste 1, http://arrivederciaz.com/ https://www.facebook.com/fharrivederci?fref=ts